In response to the pandemic and need for social distancing to prevent the spread of COVID-19, many exhibitors have moved from live to virtual trade shows.
At live trade shows, a lack of proper lead follow-up has resulted in lost sales. This may become even more of a problem as virtual trade shows are new to manufacturers and result in different tactics needed for follow-up. To convert leads into customers, it is thus important to communicate best practices on lead follow-up for virtual trade shows.
Table of Contents
11 Best Practices For Lead Follow-Up at Virtual Trade Shows

At physical trade shows, lead capture and follow-up has been cited as a major challenge to driving successful event results. However, just 6% of marketers believe their companies convert trade show lead contacts and conversations into customer business extremely well.
This problem has been magnified by the switch to virtual trade events which result in different customer interaction and follow-up opportunities for manufacturers.
Here are some tips on lead follow-up at virtual trade events to help drive conversion and sales:
Before you start your event, make sure you have a solid lead follow-up plan in place. To do this, you must define success criteria and determine who will review and classify leads as hot, warm, or cold, who will follow up with them, and when. You must also decide what touchpoints you will use and who will be sure the leads receive the information they need.
Make sure CRM and marketing automation systems are in place so leads can be followed up quickly and in scale. Use input from CRM and marketing automation software to prioritize leads, know what to say, implement an email sequence, and increase engagement. Plan to make follow-up calls and record all interactions in your CRM. On average, it takes 6-8 touches to close a deal and this will help ensure more productive calls with leads and help build rapport.
Segment your leads. After the virtual event, use input from the show in your CRM to segment leads into 3 classifications—high priority (hot), medium priority (warm) and low priority (cold). This is based on information captured at the trade show such as engagement with trade show components, pain points, budget, time frame, and buying authority. It is critical to follow up quickly so competitors do not contact your prospects first and gain their business.
In a distributor-based sales model, use an automated real-time lead management platform to quickly deliver leads to dealers for fast follow-up and conversion. Lead information is sent to one or more dealers who can be prioritized based on location, performance, etc. Customized messages are sent to leads and dealer follow-up is electronically monitored by the manufacturer with emails being sent, if needed, to ensure action. To get the info they need to choose a dealer and make a purchase, leads can review a directory with photos and videos that showcases the dealers expertise and the manufacturer's product. SEO-optimized local landing pages, created by the manufacturer with a built-in contact form for leads, can be used to expedite the process. The system can be used to manage, convert, and report on leads from all sources, such as other events or from a dealer locator on a manufacturer's website.
Deliver relevant content. Follow-up content should be personalized based on the interests leads communicated at the show. You should review attendees' activities, such as documents and videos they viewed and chat transcripts, and provide relevant follow-up material to keep them engaged and get them closer to purchase.
Offer and have the ability to send out samples right away. In many categories, customers need samples to make decisions, and speedy delivery can make or break the sale. For example, few customers have chosen hardwood flooring without seeing sample boards. They need to know how it will look with their lighting and decor, how it feels, and its construction quality.
After the virtual show, use your CRM to monitor leads in real time and to track the lead's actions. If they are downloading content, follow up the email with a phone call from a salesperson.
Create groups on Facebook and LinkedIn for event attendees to network and exchange ideas.
Have presenters do follow-up Q&A for presentations. Use ZOOM or LinkedIn Live–make it fun and exciting so viewers stay engaged.
Make content available on demand after the show and make sure everyone knows about it.
Consider sending some Swag as a token of appreciation to attendees for participating in the virtual event.
Shift in Trade Shows From Live to Virtual Events
Many exhibitors expect virtual events to be an important part of the future. An April 2020 PMCA industry survey stated that 70% of respondents have moved from face-to-face to a virtual platform and don't see that as a short-term fix, but something that will continue alongside in-person events going forward.
What Are Virtual Trade Shows?
Virtual trade shows are online counterparts of physical trade shows. Exhibitors can connect with attendees in a virtual space from anywhere and showcase their products through a virtual trade show platform.
A range of interactive events and informative tools can be employed to deliver value to visitors and encourage conversions. Viewers can experience branded and interactive booths, live chat with booth reps, view live webinars, see product demos, view products in augmented and virtual reality to better visualize how it will provide solutions to their problems, download content, and visit networking lounges for virtual meetings and happy hours.
Virtual trade shows thus provide a rich and engaging communication platform for real-time marketing and lead generation activities.
Benefits of Virtual Trade Shows vs Physical Trade Shows
Virtual shows are a great lead generating tool for B2B marketers and offer benefits vs physical trade shows:
More efficient: Costs are reduced due to elimination of travel, lodging, and meals for both attendees and exhibitors. Exhibitors also do not have to incur costs of space rental, booth shipping, and set up and can reduce staffing.
More Attendees and Leads: Virtual trade shows have a global reach and are not constrained by geography, cost, scheduling, or space limitations so they can deliver to a larger audience
More Brand Engagement: Easier opportunities for sharing and interacting with different content forms and exhibitors. Experience can be tailored to each attendee—they can view content whenever they want during and after the show.
Ability to Network and Interact Continually: Live events don't allow your attendees to talk and network during presentations, and live events limit networking to only the people at the event. While attending virtual events, however, attendees can talk with internal and external colleagues continually during live-stream presentations to share insights and observations relevant to their business.
Shorter Sales Cycles: Visitors can view a product, watch a demo and quickly go to the negotiation stage. Online stores can also be provided to convert leads before they leave the virtual show.
Gamification: To generate interest and help lead capture, giveaways and prizes can be offered to attendees if they attend events or download sales collateral
Environmentally Friendly: Carbon footprint reduced due to elimination of travel and paper and plastic waste is dramatically reduced.
Free from Health Risks of COVID-19: Attendees and exhibitors do not have to worry about travel, show attendance, and social distancing.
Learn and Plan for Next Virtual Event
Audit customer engagement with content and sessions, the effectiveness of follow-up efforts to convert leads, and the team's performance to make improvements for future events. In addition to reviewing data, make sure to get attendee feedback from a survey. Find out what they liked about the event, their perception of nurturing and follow-up efforts, and suggestions they have for future virtual events.
Based on this analysis, develop a lead follow-up strategy for your next event.
Virtual Trade Show Examples & Success Stories
Companies that have run virtual trade shows have experienced success relative to physical trade shows and have been pleased with the results. Examples of success stories include virtual events run by the National Wood Flooring Association (NWFA) and Chalfour:
National Wood Flooring Association (NWFA)
April 29–May 1, 2020
The NWFA concluded its first-ever Virtual Wood Flooring Expo with more than 200 exhibitors participating and more than 2,700 registered attendees.
"The level of engagement our first Virtual Expo received from the wood flooring community exceeded our expectations," said NWFA president & CEO, Michael Martin. "We had representation across the entire supply chain, and had an expanded international audience that we wouldn't necessarily have had at our in-person show. The virtual format allowed us to reach a larger audience, which provided new connections and opportunities for exhibitors and attendees alike."
"We had great exhibitor participation," said NWFA meeting & trade show director, Penny Key. "Nearly 1,500 emails were sent, more than 3,200 exhibitor searches were conducted and products were viewed more than 8,600 times. Even though we weren't face-to-face in Milwaukee like we had planned, our exhibitors embraced this opportunity to engage with a new audience in a new way."
The virtual trade event was so successful that the NWFA will run another virtual event in 2020 on November 17-19.
Chalfour
Nov 17–24, 2014
Communique Conference Inc reports that the first virtual trade show held by Chalfour, a leading hardware, lumber, and building material distribution company in Canada, was a success. Results were strong as they doubled the attendance of their prior physical trade shows, and booked over $46 million in sales. Randy Martin, Vice President of Business Development for TIM-BR MART. "Eliminating travel out of the equation not only cuts costs for our customers and members alike, but also reduces costs for our vendors, who have been able to offer our customers and dealers more competitive buys as a result."
Conclusion
Virtual trade shows are here to stay. They provide rich information on a lead's behavior to help guide follow-up. Be sure to leverage technology to ensure timely and personal lead follow-up by having them flow seamlessly and automatically through CRM and Marketing Automation Systems.
Related Posts
Large, multi-location brands are always trusting web development and design agencies with their …
Selling more building materials through dealers is an important opportunity to take advantage of. …
A website is often thought of as a marketing asset, rather than a resource for sales reps. However, …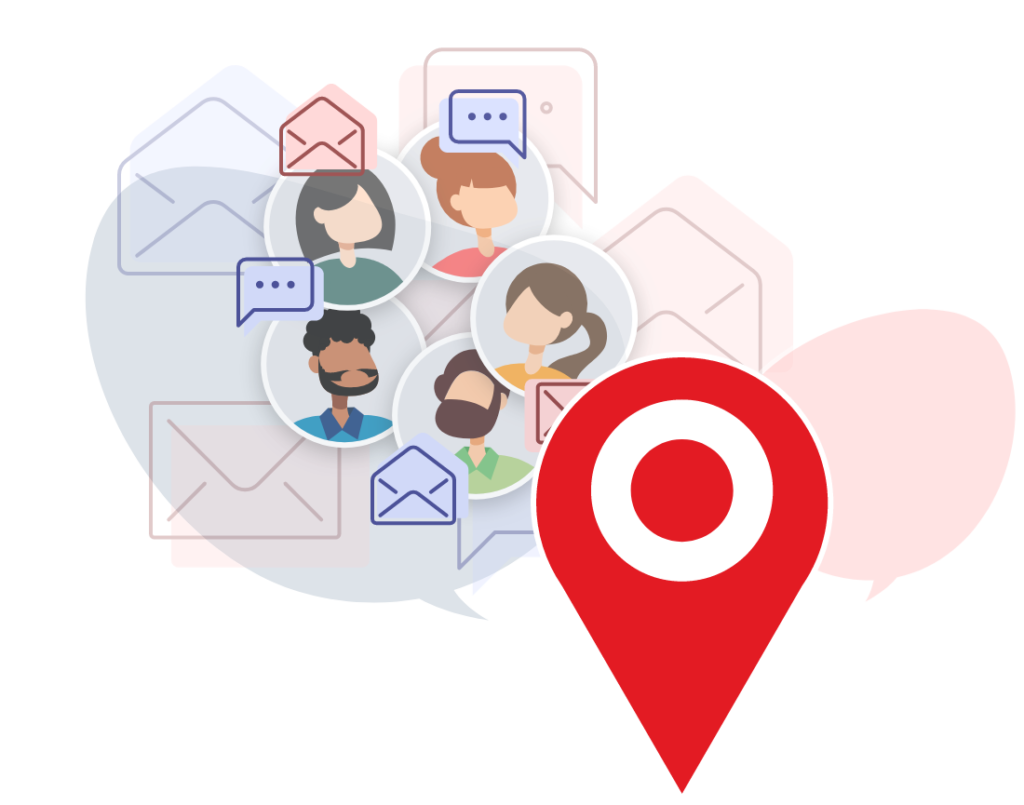 Get location marketing insights delivered straight to your inbox